Victor Grigorescu, Paul Brummell and Mihnea Crăciun confirmed their participation as keynote speakers at the 2015 Energy Evolution Awards Gala, on December 3, Atrium Hall, the National Library, Bucharest. If you have received an invitation and you have not confirmed your presence yet, please make sure you secure your participation, now! The event is built around the ceremony for handing the 8 especially designed statuettes to the 8 winners selected by the Energy Evolution Awards Jury [details here].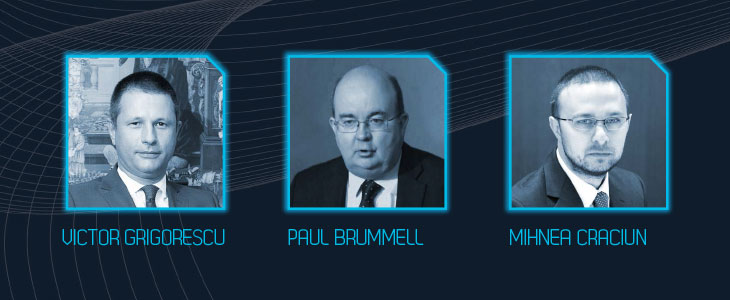 Victor Grigorescu, Minister of Energy, SMEs, and the Business Environment
Paul Brummell, British Ambassador to Romania
Mihnea Crăciun, EBRD Deputy Director and in charge with the projects in the Energy Sector in Romania
For this year we chose EVOLUTION a the central theme – the past journey of the energy industry and perspectives on future technology, all that we can predict when, if not directly influence with our daily activity. Alongside with the Gala, we propose an exhibition of technology, services and solutions for the next years, with exhibits from Kyocera, OMV Petrom, RIDGID-Emerson, and TMC Electric Mobility.
Once again, we will reward for the most valuable project in energy where a young professional had a decisive involvement – the Young Energy Professional Award is the result of a partnership between energynomics.ro and RNC-WEC's VLER.
Energy Awards, organized by energynomics.ro since 2013, are designed to recognize and reward success and best practices in the energy sector in Romania. The Energy Evolution competition has as its primary role to provide the energy community in Romania with successful models, aspirational benchmarks and case studies from exceptional organizations and personalities. Altogether, these Energy Awards aims to highlight the achievements of the energy sector for a better visibility to the business partners and general public.
Energy Evolution Awards is a high-class event and enjoys a broad media exposure nationally. The Energy Evolution Awards 2015 enjoy the support and trust of the most reputed institutions and associations of local energy. among them: CNR-CME, COGEN, CRE, EPG, RBSTA, ROGBC, ROPEPCA, RPIA, RWEA, UPG, and Aspen Institute România.
The 2015 edition takes place with the support from our partners – ALD Automotive, Artmark, BCR Pensii, CEZ România, Chivas, Electrica, Emerson Ridge Tools, Hidroelectrica, Hunt Oil, Kyocera, LeasePlan, Lukoil, Nuclearelectrica, OMV Petrom, Sarto, Schneider Electric România, SGS România, WU Executive Academy.
The media exposure is realized through energynomics.ro communication platform and by our media partners: Bursa, Business Review, DeBizz, Economistul, Forbes, Jurnalul de afaceri, Mesagerul energetic, Monitorul de petrol si gaze, Puterea, Revista 22, Universul Ingineresc – AGIR.
Post-ul Victor Grigorescu, Paul Brummell and Mihnea Crăciun will open the 2015 Energy Evolution Awards Gala apare prima dată în energynomics.ro.