Our Services
You are here
The aim of BRIDGE is to be the trusted facilitator for inward investment and overall development, relating to projects involving Public Authorities, private organisations and companies based in Romania and the United Kingdom.
Bridge is harnessing opportunities and knowledge from both public and private organisations and links them together.

Inform

---
BRIDGE provides companies with unprecedented access to information on procurement and commercial prospects throughout Romania, from small and medium companies seeking partners to regional and national infrastructure ventures.
Just find anyway online and engage right away or IF you want to:
♦ find an opportunity fast and bookmark for follow-up;
♦ find partners to regional and national infrastructure ventures;
♦ build, maintain and manage the connections needed to win new business and increase profitability;
♦ find, follow and engage hot prospects;
♦ contact a public institution.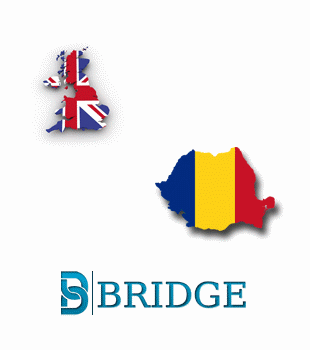 Connect

---
Bridge2Romania connects you with commercial opportunities throughout Romania and provides the intelligence and practical in-country support you need to maximise your opportunities.
From assistance to opening a business, sales and market development, facilitation of medium and long-term cooperation or partnerships with Romanian SME's, Universities and other private or state institutions, Bridge provides a pallet of services.
Support

---
After you've found your partner, BRIDGE takes you to Romania! An info pack will be delivered to you containing your Bridge rep, driver, translator, hotels and a schedule of all local meetings that are already arranged for you.
The choice is in your hands: after finding a partner you may commence your business with no obligation towards BRIDGE, or you could have us assisting you and even managing your entire project.
Product Exhibition &
Trade Shows
---
We offer exhibition space throughout Romania that you can utilise for displaying your products/services in Romania.
Involve

---
Bridge brings all your potential clients into "one place" making it easy for you to browse, chose and communicate, using the dedicated messaging system, through opportunities and with potential partners. Reaching out to a new market has never been easier.